BTEC Digital Information Technology Revision
Course:
Students at Launceston College study the BTEC Tech Award specification. This can be found here: https://qualifications.pearson.com/en/qualifications/btec-tech-awards/digital-information-technology.html 
Exams:
(not to be taken in 2021)
Students in Year 11 will one exam in February with the option to retake in June 
Component 1: Exploring User Interface Design Principles and Project Planning Techniques Internally assessed
Component 2: Collecting, Presenting and Interpreting Data  – Internally assessed
Component 3: Effective Digital Working Practices External Synoptic
Revision resources:
S
tudent Book
How to use this resource: Students have access to the Digital Information Technology book. This book covers all content from all three components; reinforcing the learning that takes place in the classroom and giving them questions to test their knowledge and understanding. This book is kept in class, although students can request to take it home which is allowed. 
Pearson
revision guide: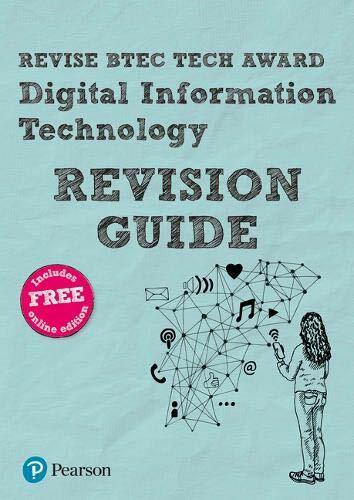 How to use this resource: Students have been given a BTEC Tech Award revision guide. This can be used to create mind maps or quizzes. This can then be used to check subject knowledge and understanding. There are also some exam questions and quiz questions created at the end of every unit. This is particularly useful for checking and revising subject knowledge.
 
Pearson 
Practice Assessment Plus +
How to use this resource: This resource is useful for practising the skills you need for the external assessment. Within this resource there are four practice assessments, with guidance and support focusing on how to structure your answer. This resource is supported by the Revision guide which you also have a copy of, which is referred to throughout; Remember to check your understanding by using the answer section within the booklet. 
Student Folders
How to use this resource: Students have worked through the content, completing worksheets, homework and assessments, with a focus of the four learning aims within Component 3. Please refer to this to support revision and look at the style of questioning.  
Teachmecomputing.co.uk
How to use this resource: Teachmecomputing.co.uk has been created with all lesson PowerPoints, resources and mock assessments for students to use to support revision and refine their exam technique. Students can access the page by following the link below: https://teachmecomputing.co.uk/btec-tech-award/ .